Jared Leto, Matt Smith, Adria Arjona, Jared Harris, Al Madrigal
English | Drama, Action, Sci-F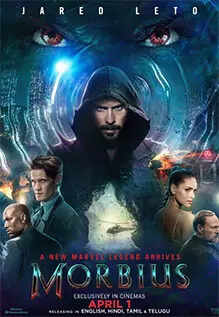 Morbius
Directed by
Daniel Espinosa
Written by

Matt Sazama
Burk Sharpless

Based on
Marvel Comics
Produced by

Avi Arad
Matt Tolmach
Lucas Foster

Starring

Jared Leto
Matt Smith
Adria Arjona
Jared Harris
Al Madrigal
Tyrese Gibson

Cinematography
Oliver Wood
Music by
Jon Ekstrand

Production
companies

Columbia Pictures
Marvel Entertainment
Arad Productions
Matt Tolmach Productions

Distributed by
Sony Pictures Releasing

Release date

Running time

108 minutes[1]
Country
United States
Language
English
Morbius is an upcoming American superhero film featuring the Marvel Comics character Morbius, the Living Vampire, produced by Columbia Pictures in association with Marvel. Distributed by Sony Pictures Releasing, it is intended to be the third film in Sony's Spider-Man Universe. The film is directed by Daniel Espinosa, written by Matt Sazama and Burk Sharpless, and stars Jared Leto as Michael Morbius alongside Matt Smith, Adria Arjona, Jared Harris, Al Madrigal, and Tyrese Gibson. In the film, Morbius becomes a vampire after attempting to cure himself of a rare blood disease.
After announcing plans for a new shared universe of films inspired by Spider-Man characters beginning with Venom (2018), Sony began developing a film based on Morbius. Sazama and Sharpless had written a script by November 2017, and Leto and Espinosa officially joined in June 2018. Work began in earnest at the end of the year with further casting, ahead of production starting in London in February 2019. Filming was confirmed to have been completed by June 2019.
Morbius is scheduled to be released in the United States on April 1, 2022, delayed from an initial July 2020 date primarily due to the COVID-19 pandemic.
Suffering from a rare blood disease, Dr. Michael Morbius tries a dangerous cure that afflicts him with a form of vampirism.[2][3]
Cast
[

edit

]
Jared Leto as Dr. Michael Morbius:
A scientist suffering from a rare blood disease whose attempts to cure himself afflict him with a form of transgenic vampirism,[3] gaining superhuman abilities but none of the superstitious weaknesses associated with vampires. Leto was drawn to the character's struggle with his disease and the moral implications of a hero who has a thirst for blood.[4] Leto found the role to be surprisingly challenging due to it being much less character-driven than his prior performances and also much closer to his real-life personality and thus did not require his well-known method acting approach.[5]
Matt Smith as Loxias Crown:
Morbius's friend who suffers from the same rare blood disease.[6][7] After previously turning down other superhero film roles, Smith joined the film due to director Daniel Espinosa's involvement and encouragement from Karen Gillan, who portrays Nebula in the Marvel Cinematic Universe (MCU) and who previously worked with Smith on Doctor Who.[8] Joseph Esson portrays a young Loxias Crown.[9]
Adria Arjona as Martine Bancroft: A scientist and Morbius's fiancée.[10][11]
Jared Harris as a professor and Morbius's mentor.[7][12]
Al Madrigal as Alberto Rodriguez: An FBI agent hunting Morbius.[13]
Tyrese Gibson as Simon Stroud:
An FBI agent hunting Morbius.[7][13] Gibson noted that the character is white in the comic books, and the producers "made him black" to cast the actor. Stroud has a "hi-tech weapons-grade arm" in the film, and Gibson described him as a superhero.[14] Gibson signed a three-picture deal when he joined the film.[15]
Additionally, Michael Keaton reprises his role as Adrian Toomes / Vulture from the MCU film Spider-Man: Homecoming (2017).[16] Corey Johnson will appear in an undisclosed role.[17]
Production
[

edit

]
Development
[

edit

]
Artisan Entertainment announced a deal with Marvel Entertainment in May 2000 to co-produce, finance, and distribute several films based on Marvel Comics characters, including Morbius, the Living Vampire.[18] Previously, the character was set to appear in Blade (1998), portrayed by director Stephen Norrington in a cameo appearance ahead of a larger role in a sequel. However, the character was cut from the first film and not introduced in Blade II (2002) after Norrington chose not to return for that film.[19] In May 2017, Sony announced plans for a new shared universe featuring Spider-Man-related properties beginning with Venom in October 2018;[20] this was later titled "Sony's Spider-Man Universe".[21] In July, Spider-Man: Homecoming (2017) director Jon Watts expressed interest in featuring Morbius and Blade in the then untitled Spider-Man: Far From Home (2019), believing that the character's dark tone could work well within the Marvel Cinematic Universe (MCU).[22] That November, Matt Sazama and Burk Sharpless submitted a script to Sony for a Morbius film, after a "secret development process" at the studio.[23] Jared Leto became "loosely attached" to star in the title role, but would not commit to the film until he was happy with its direction; Leto asked to personally meet with several director candidates.[24]
By the end of April 2018, Sony had approached Antoine Fuqua about potentially directing the film. He expressed interest in taking on the project, and said that if he was to make a film in the superhero genre he would want to make it "something that's closer to what I get excited about."[25] He ultimately chose not to take on the project.[24] Other directors that Sony approached about the film included F. Gary Gray, who considered directing the film but ultimately turned down the role,[26] and Daniel Espinosa, who previously directed the film Life (2017) for the studio.[24] In May, while on tour in Germany with his band Thirty Seconds to Mars, Leto met with Espinosa to talk about the film,[24] and the pair were both confirmed for the project at the end of June. Avi Arad, Matt Tolmach, and Lucas Foster were producing,[3] and filming was expected to begin by the end of 2018. Sony was expected to fit the film into its already-set Marvel release slate shortly.[24]
Pre-production
[

edit

]
By the end of September, Sony was intending for production on the film to take place in Atlanta, Georgia—where Spider-Man: Homecoming and Venom were previously produced—but had still not set a release date for the film.[27][28] Screen Rant's Cooper Hood opined that Sony was likely waiting to see the response to Venom in early October, with Arad confirming at that time that there was excitement at Sony to produce Morbius, especially due to the story of a "healer that becomes a killer, and how do you deal with [that?]"[28] Tolmach said the project was "very far along" at that stage and they were now planning to begin filming in early 2019,[29][30] with the intention that Morbius would be the second film released as part of Sony's shared universe after Venom.[29] He added that Leto was bringing the same "intensity" to the film that he had brought to playing the Joker in Suicide Squad (2016).[31] By November, box office analysts believed that Venom had been successful enough for Sony to move ahead with other films like Morbius,[32] and at the end of that month the studio dated an untitled Marvel film that was believed to be Morbius for a July 10, 2020, release.[33] Adria Arjona entered negotiations to portray the film's female lead, Martine Bancroft, in December;[10] her involvement was confirmed a month later when Sony pushed the release date to July 31,[11] and Matt Smith also joined the cast in an undisclosed role.[6][34] Art Marcum and Matt Holloway made uncredited contributions to the film's script.[35][36]
Filming
[

edit

]
Principal photography began during the last week of February 2019 in London,[37][38] under the working title Plasma.[39] Oliver Wood served as cinematographer for the film.[40] With the start of filming, Jared Harris and Tyrese Gibson joined the cast as Morbius's mentor and an FBI agent hunting Morbius, respectively.[7][12][41] Smith was revealed to be portraying the villainous Loxias Crown.[7] In March, filming took place in Manchester's Northern Quarter, doubling for New York City.[42] A month later, Gibson revealed that he was portraying Simon Stroud, and that Al Madrigal had been cast as his partner, Alberto Rodriguez.[13] At the end of the month, Justin Haythe was believed to have contributed to the film's script.[43] Filming was scheduled to take 12 weeks,[8][37] and Venom producer Amy Pascal said in June that production had "just wrapped" on the project.[44]
Post-production
[

edit

]
In September 2019, Sony announced a new agreement with Disney that extended a previous deal to have Marvel Studios and its president Kevin Feige produce a sequel to Far From Home, keeping Spider-Man in Marvel's shared universe, the Marvel Cinematic Universe. As part of the new agreement, Feige stated that moving forward the MCU's Spider-Man would be able to "cross cinematic universes" and appear in Sony's own shared universe as well.[45] This interaction was said to be "a 'call and answer' between the two franchises as they acknowledge details between the two in what would loosely be described as a shared detailed universe".[46] The film's first trailer, released in January 2020, included an image of Spider-Man that commentators equated to the Sam Raimi-directed Spider-Man films, though it appeared to be used as a reference to the ending of Far From Home.[47] The trailer also included a brief appearance by Michael Keaton, reprising his role as Adrian Toomes / Vulture from the co-produced Marvel Studios Spider-Man film, Spider-Man: Homecoming.[16][48]
Reshoots for the film began in Los Angeles by early February 2020,[49] and were finished a month later when film productions around the United States were halted due to the COVID-19 pandemic.[50] At the end of March, the film's release date was pushed back to March 19, 2021, due to the pandemic closing theaters around the world.[51] In January 2021, the film was delayed again, first to October 8, 2021, and then to January 21, 2022, when No Time to Die was moved to the October 2021 date.[52] At the end of January, Leto revealed that additional reshoots were taking place in mid-February.[53] The film's release was moved back another week at the end of April 2021, moving to January 28, 2022.[52] At the start of January 2022, the film was delayed to April 1, 2022, due to the box office success of Spider-Man: No Way Home (2021) which Sony hoped would continue throughout early 2022.[54] Later that month, Corey Johnson was revealed to have a role in the film.[17]
Music
[

edit

]
By October 2019, Jon Ekstrand was set to compose the score for Morbius after doing the same for Espinosa's previous films.[55]
Marketing
[

edit

]
The teaser trailer for the film was released on January 13, 2020.[4] Julia Alexander at The Verge described the premise of the film as presented by the trailer as "ridiculous",[56] while Matt Goldberg of Collider felt it looked "silly" and also noted that the film looked very similar to Venom, which he acknowledged was commercially successful.[57] Scott Mendelson, writing for Forbes, agreed with the comparison to Venom which he felt was a good move by Sony due to the success of their last few Spider-Man films, but cautioned that Leto may not have the same box office draw for general audiences that Tom Hardy gave to Venom.[58] Much of the discussion surrounding the trailer centered on the revelation of Keaton's role and the visual reference to Spider-Man, which led to questions about the film's relationship with the Spider-Man films and the wider Marvel Cinematic Universe.[4][47][56][57]
Release
[

edit

]
Theatrical
[

edit

]
Morbius is scheduled to be released in the United States on April 1, 2022, in IMAX and other premium large formats.[54] It was originally set for release on July 10, 2020,[11][33] before moving three weeks later to July 31.[11] The film was then delayed due to the COVID-19 pandemic, firstly to March 19, 2021,[51] then to October 8, 2021, and to January 21, 2022, before moving a week later to January 28.[52] It was then delayed again to the April 2022 date.[54]
Home media
[

edit

]
Sony signed deals with Netflix and Disney in April 2021 for the rights to their 2022 to 2026 film slate, following the films' theatrical and home media windows.[59][60] Netflix signed for exclusive "pay 1 window" streaming rights, which is typically an 18 month window and included future Marvel films in Sony's Spider-Man Universe.[59] Disney signed for "pay 2 window" rights for the films, which would be streamed on Disney+ and Hulu as well as broadcast on Disney's linear television networks.[60][61]
Future
[

edit

]
In January 2021, Leto said there was potential for Morbius to appear alongside the character Blade in a future project, with Mahershala Ali cast in that role for the MCU.[62] That December, in discussing the introduction of the multiverse in Spider-Man: No Way Home (2021), Leto said there was potential for further crossovers with his character in future films.[63] Tom Holland also expressed interest in seeing his version of Spider-Man from the MCU fighting Morbius in the future,[64] while producers Kevin Feige and Amy Pascal confirmed interest in a potential film starring both Leto and Ali.[65]
References
[

edit

]
^ "Morbius (2022)". Rotten Tomatoes. Fandango. Retrieved 

January 26,

 2022.
^ Ramirez II, Hector (January 14, 2020). "Morbius: Sony Releases Spider-Verse Vampire Film's Official Summary". Comic Book Resources. Archived from the original on January 15, 2020. Retrieved 

January 18,

 2020.
^ 

Jump up to:

a b c Fleming, Mike Jr. (June 27, 2018). "Jared Leto, Daniel Espinosa Team For Sony's 'Morbius' Spider-Man Spinoff". Deadline Hollywood. Archived from the original on June 27, 2018. Retrieved 

June 28,

 2018.
^ 

Jump up to:

a b c Yehl, Joshua (January 14, 2020). "Morbius Trailer First Look: Jared Leto Talks Debut as the Iconic Marvel Monster". IGN. Archived from the original on January 15, 2020. Retrieved 

January 18,

 2020.
^ Variety (January 28, 2021). Jared Leto & John David Washington on 'Tenet,' 'Little Things' And More | Actors on Actors. YouTube. Retrieved 

January 7,

 2022.
^ 

Jump up to:

a b Couch, Aaron (January 24, 2019). "Matt Smith Joining Jared Leto in 'Morbius'". The Hollywood Reporter. Archived from the original on January 26, 2019. Retrieved 

February 24,

 2019.
^ 

Jump up to:

a b c d e Kit, Borys (March 5, 2019). "Tyrese Gibson in Talks to Join Jared Leto in Spider-Man Spinoff 'Morbius'". The Hollywood Reporter. Archived from the original on March 6, 2019. Retrieved 

March 10,

 2019.
^ 

Jump up to:

a b Zemler, Emily (March 5, 2019). "Matt Smith leaves 'The Crown' behind for Charles Manson and Robert Mapplethorpe". Los Angeles Times. Archived from the original on March 7, 2019. Retrieved 

March 10,

 2019.
^ Van Gelder Grant, Conway [@CVGG] (January 13, 2020). "Your first glimpse at @MorbiusMovie, with Joseph Esson as the Young Loxias" (Tweet). Archived from the original on January 15, 2020. Retrieved 

October 3,

 2021 – via Twitter.
^ 

Jump up to:

a b Couch, Aaron (December 14, 2018). "'Morbius': Adria Arjona in Early Talks to Join Jared Leto". The Hollywood Reporter. Archived from the original on December 15, 2018. Retrieved 

December 15,

 2018.
^ 

Jump up to:

a b c d Hipes, Patrick (January 25, 2019). "'Morbius' & 'Ghostbusters' Solidify Summer 2020 Release Dates". Deadline Hollywood. Archived from the original on January 26, 2019. Retrieved 

February 24,

 2019.
^ 

Jump up to:

a b N'Duka, Amanda (March 4, 2019). "Jared Harris Joins Jared Leto In Sony's 'Spider-Man' Spinoff 'Morbius'". Deadline Hollywood. Archived from the original on March 5, 2019. Retrieved 

March 10,

 2019.
^ 

Jump up to:

a b c "He just wrapped for that day…. I come back to our shared tent and once again he ate ALL the snacks… I can't sleep around this dude cause he's funny as hell and I guess he really didn't think I would notice that he's eating everything in sight…. My #PIC partner in crime aka Agent Alberto Rodriguez aka @almadrigal the bad guys are doomed!!!! #Marvel #Morbius #SetLife #AgentSimonStroud". Instagram. April 19, 2019. Archived from 

the original

 on December 23, 2021. Retrieved 

May 4,

 2019.
^ Riefe, Jordan (April 23, 2020). "Tyrese Gibson Talks 'F9' and Becoming a Superhero for Marvel's 'Morbius'". Maxim. Archived from the original on April 26, 2020. Retrieved 

April 25,

 2020.
^ Gibson, Tyrese (March 11, 2019). "When you sign the deal…….. "God blesses those who are humble, for they will inherit the whole earth" – Matthew 5:5 ► – 3 picture #Marvel deal…. #Morbius #Humbled #Grateful been praying for a breakthrough had no idea that it was going to come on this level…. Thank you Jesus! #Amen #LondonUK". Instagram. Archived from 

the original

 on December 23, 2021. Retrieved 

March 12,

 2019.
^ 

Jump up to:

a b Keegan, Rebecca (August 18, 2021). "Michael Keaton on Reviving Batman and the Power of Saying No to Hollywood". The Hollywood Reporter. Archived from the original on August 18, 2021. Retrieved 

August 18,

 2021.
^ 

Jump up to:

a b Kit, Borys (January 13, 2022). "HBO Max's 'Batgirl' Movie Adds Rebecca Front, Corey Johnson, and Ethan Kai (Exclusive)". The Hollywood Reporter. Archived from the original on January 13, 2022. Retrieved 

January 13,

 2022.
^ Fleming, Michael (May 16, 2000). "Artisan deal a real Marvel". Variety. Archived from the original on April 9, 2015. Retrieved 

April 9,

 2015.
^ Brehmer, Nat (January 16, 2020). "Breaking Down the Deleted 'Blade' Ending Featuring Morbius and Why We Never Got That Sequel". Bloody Disgusting. Archived from the original on January 17, 2020. Retrieved 

August 20,

 2020.
^ Busch, Anita (May 19, 2017). "Tom Hardy Is 'Venom' In New Sony Marvel Film To Be Directed By Ruben Fleischer". Deadline Hollywood. Archived from the original on May 20, 2017. Retrieved 

May 21,

 2017.
^ Kim, Brendan (August 24, 2021). "Sony's Spider-Man Universe Is Official Title For Non-MCU Marvel Movies". Screen Rant. Archived from the original on August 24, 2021. Retrieved 

August 24,

 2021.
^ Jones, Jordan (July 6, 2017). "Jon Watts on the possibility of Morbius, Blade and The Chameleon in Spider-Man: Homecoming 2". Flickering Myth. Archived from the original on January 4, 2022. Retrieved 

December 7,

 2021.
^ Kit, Borys (November 13, 2017). "'Spider-Man' Spinoff: Morbius the Living Vampire Movie in the Works With 'Power Rangers' Writers". The Hollywood Reporter. Archived from the original on November 14, 2017. Retrieved 

November 14,

 2017.
^ 

Jump up to:

a b c d e Kroll, Justin (June 27, 2018). "Jared Leto to Star in 'Spider-Man' Spinoff 'Morbius' From Director Daniel Espinosa". Variety. Archived from the original on June 27, 2018. Retrieved 

June 28,

 2018.
^ Shirey, Paul (April 24, 2018). "EXC. Antoine Fuqua Talks Potential For a Morbius or Blade Film at CinemaCon". JoBlo.com. Archived from the original on April 27, 2018. Retrieved 

April 27,

 2018.
^ Timberlake, Braxter (May 25, 2018). "Exclusive: Plot Details for Sony's 'Morbius' Spider-Verse Spin-Off". That Hashtag Show. Archived from the original on June 13, 2018. Retrieved 

September 30,

 2018.
^ Marc, Christopher (September 6, 2018). "Update: Jared Leto's Marvel Movie 'Morbius' Eyes Shoot in Atlanta this Fall/Winter". The GWW. Archived from the original on September 30, 2018. Retrieved 

October 1,

 2018.
^ 

Jump up to:

a b Hood, Cooper (September 28, 2018). "Why Sony is Excited About The Morbius Movie". Screen Rant. Archived from the original on September 28, 2018. Retrieved 

September 29,

 2018.
^ 

Jump up to:

a b Wood, Matt (September 29, 2018). "Sounds Like Morbius Could Be The Next Spiderverse Movie Made After Venom". CinemaBlend. Archived from the original on September 30, 2018. Retrieved 

September 30,

 2018.
^ Trumbore, Dave (October 9, 2018). "'Morbius' Filming Details Revealed by Producers Avi Arad and Matt Tolmach". Collider. Archived from the original on October 10, 2018. Retrieved 

October 10,

 2018.
^ Bonomolo, Cameron (September 28, 2018). "'Morbius' Producers Praise Star Jared Leto". ComicBook.com. Archived from the original on September 30, 2018. Retrieved 

September 30,

 2018.
^ Clark, Travis (November 6, 2018). "Venom' gives Sony an edge over Disney in its fight to keep 'Spider-Man,' according to industry experts". Business Insider. Archived from the original on November 7, 2018. Retrieved 

November 7,

 2018.
^ 

Jump up to:

a b Donnelly, Matt (November 21, 2018). "Sony Dates Two Marvel Movies for 2020". Variety. Archived from the original on November 21, 2018. Retrieved 

November 22,

 2018.
^ Kroll, Justin (January 24, 2019). "Matt Smith to Star With Jared Leto in Marvel Spinoff 'Morbius' (Exclusive)". Variety. Archived from the original on January 25, 2019. Retrieved 

February 24,

 2019.
^ Barnhardt, Adam (January 13, 2020). "Morbius Taps Iron Man Writers for Rewrites". ComicBook.com. Archived from the original on January 14, 2020. Retrieved 

January 18,

 2020.
^ "Morbius". Writers Guild of America, West. December 18, 2020. Archived from the original on January 3, 2021. Retrieved 

January 3,

 2021.
^ 

Jump up to:

Leto, Jared [@JaredLeto] (March 5, 2019). "1 week down…11 to go… Get Ready 💪 #MORBIUS @MorbiusMovie" (Tweet). Archived from the original on March 6, 2019. Retrieved 

March 10,

 2019 – via Twitter.
 Zinski, Dan (February 11, 2019). "Morbius Star Jared Leto Teases Start Of Filming In London". Screen Rant. Archived from the original on February 12, 2019. Retrieved 

February 24,

 2019.
^ Mueller, Matthew (November 22, 2018). "'Morbius The Living Vampire' Working Title Revealed". ComicBook.com. Archived from the original on November 26, 2018. Retrieved 

November 27,

 2018.
^ Discussing Film [@DiscussingFilm] (October 14, 2018). "Cinematographer Oliver Wood ('The Equalizer 2', 'Fantastic Four') has joined the crew as cinematographer for Daniel Espinosa's 'Morbius'. (Exclusive)" (Tweet). Archived from the original on September 27, 2019. Retrieved 

September 27,

 2019 – via Twitter.
^ Kroll, Justin (March 5, 2019). "Tyrese Gibson Joins Jared Leto in Marvel Spinoff 'Morbius' (Exclusive)". Variety. Archived from the original on March 6, 2019. Retrieved 

March 10,

 2019.
^ "Manchester given a New York City makeover for filming of Spider-Man spin-off Morbius". Sky News. March 26, 2019. Archived from the original on March 26, 2019. Retrieved 

March 29,

 2019.
^ Polito, Thomas (March 18, 2019). "Exclusive: 'Red Sparrow' Scribe Justin Haythe Contributed to 'Morbius' Script for Sony". Geeks WorldWide. Archived from the original on September 27, 2019. Retrieved 

September 27,

 2019.
^ Dumaraog, Ana (June 22, 2019). "Future Spider-Man Spinoff Movies Will Stand On Their Own". Screen Rant. Archived from the original on June 22, 2019. Retrieved 

September 27,

 2019.
^ Lang, Brent (September 27, 2019). "Sony, Marvel Make Up: Companies Will Produce Third 'Spider-Man' Film". Variety. Archived from the original on September 27, 2019. Retrieved 

September 27,

 2019.
^ D'Alessandro, Anthony (September 27, 2019). "Spider-Man Back In Action As Sony Agrees To Disney Co-Fi For New Movie, Return To MCU: How Spidey's Web Got Untangled". Deadline Hollywood. Archived from the original on September 27, 2019. Retrieved 

September 27,

 2019.
^ 

Jump up to:

a b Newby, Richard (January 13, 2020). "How 'Morbius' Can Build to a Spider-Man Crossover Movie". The Hollywood Reporter. Archived from the original on January 13, 2020. Retrieved 

January 18,

 2020.
^ Boucher, Geoff (January 13, 2020). "'Morbius' Teaser: Jared Leto Sinks Teeth Into Marvel Vampire Role". Deadline Hollywood. Archived from the original on January 14, 2020. Retrieved 

January 18,

 2020.
^ Barnhardt, Adam (February 9, 2020). "Morbius Set Photos Suggest Stronger Spider-Man Presence". ComicBook.com. Archived from the original on February 10, 2020. Retrieved 

February 10,

 2020.
^ D'Alessandro, Anthony (March 13, 2020). "Disney Pausing Production On Features 'Little Mermaid', 'Home Alone', 'Nightmare Alley' & More Until Coronavirus Calms Down". Deadline Hollywood. Archived from the original on March 13, 2020. Retrieved 

March 14,

 2020.
^ 

Jump up to:

a b Galuppo, Mia (March 30, 2020). "Sony Delays Release of 'Morbius,' 'Ghostbusters,' More Films Due to Coronavirus". The Hollywood Reporter. Archived from the original on March 31, 2020. Retrieved 

March 30,

 2020.
^ 

Jump up to:

a b c D'Alessandro, Anthony (April 30, 2021). "Sony Marvel Movie 'Morbius' Shifts A Week Later Next Winter". Deadline Hollywood. Archived from the original on May 1, 2021. Retrieved 

May 1,

 2021.
^ Cranswick, Amie (January 31, 2021). "Morbius to undergo more reshoots as Jared Leto hints at script issues". Flickering Myth. Archived from the original on February 27, 2021. Retrieved 

February 27,

 2021.
^ 

Jump up to:

a b c Grobar, Matt (January 4, 2022). "'Morbius': Sony Pushes Release Date For Jared Leto's Marvel Film". Deadline Hollywood. Archived from the original on January 4, 2022. Retrieved 

January 4,

 2022.
^ "Jon Ekstrand to Score Daniel Espinosa's 'Morbius'". Film Music Reporter. October 9, 2019. Archived from the original on October 10, 2019. Retrieved 

October 10,

 2019.
^ 

Jump up to:

a b Alexander, Julia (January 13, 2020). "Sony's first Morbius trailer is as ridiculous as 'pseudo-vampire Marvel villain played by Jared Leto' sounds". The Verge. Archived from the original on January 13, 2020. Retrieved 

January 18,

 2020.
^ 

Jump up to:

a b Goldberg, Matt (January 13, 2020). "Jared Leto Goes Full Angsty Bloodsucker in the 'Morbius' Trailer". Collider. Archived from the original on January 13, 2020. Retrieved 

January 18,

 2020.
^ Mendelson, Scott (January 13, 2020). "'Morbius' Trailer Tries To Show That 'Venom' Was No Fluke At The Box Office". Forbes. Archived from the original on January 14, 2020. Retrieved 

January 18,

 2020.
^ 

Jump up to:

a b Galuppo, Mia (April 8, 2021). "Netflix Nabs Post-PVOD Streaming Rights to Sony's Feature Films in Multiyear Deal". The Hollywood Reporter. Archived from the original on April 8, 2021. Retrieved 

April 9,

 2021.
^ 

Jump up to:

a b Hayes, Dade (April 21, 2021). "Disney And Sony Reach Windows Deal That Can Sling 'Spider-Man' To Disney+ For First Time, Along With Reach Across Hulu, ABC, FX & More". Deadline Hollywood. Archived from the original on April 21, 2021. Retrieved 

April 21,

 2021.
^ Couch, Aaron (April 21, 2021). "Sony Films Will Move to Disney After Netflix Window Expires". The Hollywood Reporter. Archived from the original on April 21, 2021. Retrieved 

April 21,

 2021.
^ Bonomolo, Cameron (January 28, 2021). "Jared Leto Says Morbius Crossover With Mahershala Ali's Blade Could Happen in the Future". ComicBook.com. Archived from the original on January 29, 2021. Retrieved 

January 29,

 2021.
^ Fink, Richard (December 5, 2021). "Morbius' Jared Leto Hints at Sinister Six Spider-Man Connection". Screen Rant. Archived from the original on December 6, 2021. Retrieved 

December 5,

 2021.
^ Davis, Erik [@ErikDavis] (December 8, 2021). "New: Tom Holland teases epic fights with Willem Dafoe's Green Goblin in #SpiderManNoWayHome. "The fight scenes we have with Willem in this film are so crazy & so scary that it really was awesome to, like, explore different kind of Spider-Man action."" (Tweet). Archived from the original on December 8, 2021. Retrieved 

December 9,

 2021 – via Twitter.
^ Fiduccia, Christopher (December 21, 2021). "Blade & Morbius Crossover Movie is Possible, Says Spider-Man Producers". Screen Rant. Archived from the original on December 22, 2021. Retrieved 

December 21,

 2021